Monday, April 18th, 2011
Husband and I are huge fans of the A Song of Ice and Fire series by George R. R. Martin. I read the first book when I was 18, and Husband read it before we were married, on my suggestion, and got even more into the series than I did. And then, lo and behold, they go and make it into an HBO series. Ever have a wish granted? For (getting to be well) over a decade, I've been picturing how this series would go if they brought it to the screen, and last night, it happened.
Two weeks ago, I came up with the crazy idea of finding foods mentioned in the books and making a feast for Premiere Night. And I did it. Six hours of cooking, and here's what you get: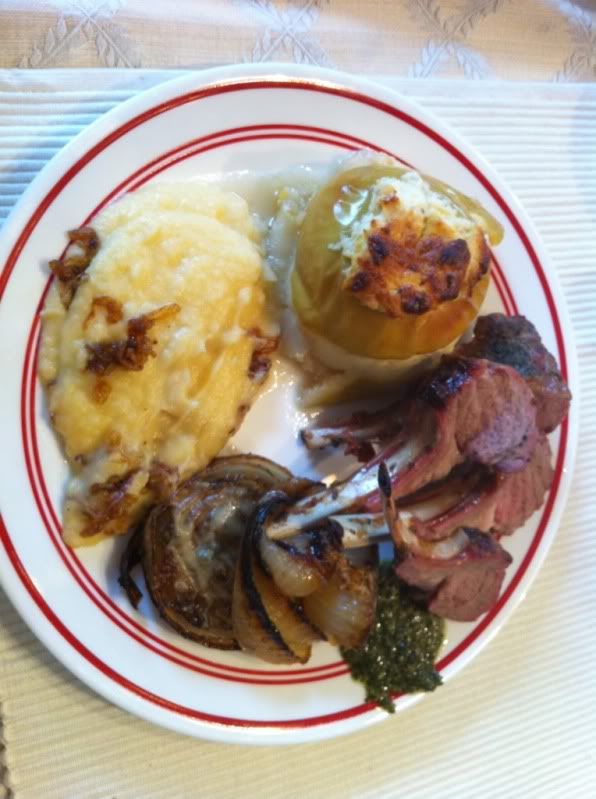 Clockwise from top: Goat cheese served with baked apples, Rack of lamb crusted in garlic and herbs, A roasted onion, dripping with gravy, and Mashed yellow turnips swimming in butter. All titles of the food come directly from the books.
Not pictured are fearsomely strong cider, flagons of mead, and a grain-free version of the book's ubiquitous lemon cakes. For those, I added about a tablespoon more lemon juice than it called for, and the zest of the lemon I'd squeezed. I'd say stay closer to 3 tablespoons of honey than 5–they're pretty sticky-sweet with 5. I also made a fried bell pepper salad from my friend at Paleo Middle Eastern, but I forgot and left it in the fridge and we didn't remember it until we started putting away leftovers. I added a few spicy peppers and some hot sauce to the mix so it would approximate Fiery Dornish Peppers.
Some notes about the recipes: Rutabagas (yellow turnips) may have been the best thing on the plate. A bit high in carbs, but it's a root vegetable and not a nightshade and it makes a really good mash–the texture is velvety smooth and not at all watery, and the flavor is mostly a good approximation of a slightly sweet potato–like potato blended with caramelized onions. I've already decided that this recipe is making the Thanksgiving rotation. The lamb is excellent and not at all difficult to make. We grilled them instead of roasting them so as to free up the oven for the onions and apples. The apples were the weakest link (in part due to the fact that I don't like fruit), but if you're an apple person, I'd imagine they're quite good. The onions? Well, keep in mind this is a Cooking Light recipe. I modified it a bit–used about two tablespoons of olive oil at first instead of whatever ridiculous CW amount they asked for. I also used my homemade bone broth rather than prepackaged beef stock. I should have used a cup rather than 2/3–toward the end it was a scorched syrup on the bottom of the pan, very difficult to baste with. It took lots of time and elbow grease to get that pan clean–perhaps more liquid might have helped. But oh, were they good. Like eating French onion soup on a plate. And if you're dairy-free, the cheese is entirely unnecessary for its goodness. Pretty sure the rutabagas would have been fine with coconut oil instead of butter, too, if you need them to be.
So that's what I did yesterday. All told, it took six hours of kitchen time. I was sore until this morning, but I managed to stay awake for the premiere!
Oh, and yesterday I also took measurements. These are my 4th, so it's been 3 months since I started taking them. In those three months, I'm down almost 20 pounds, and 3 inches each on my waist and hips. 2 inches on the chest. This stuff works.