Paleo Father's Day Brunch
June 19th, 2011 at 19:16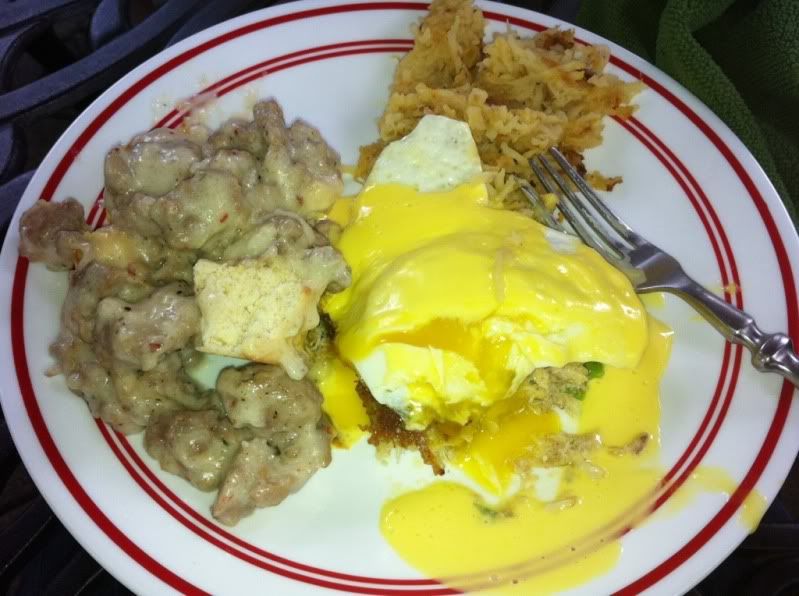 Clockwise from top: Celery root "hash browns," crabcake eggs Benedict, and sausage gravy and biscuits.
This was a really fabulous brunch–had it at 10 AM and was really not very hungry even when dinner rolled around.
The hash browns were amazing. I've really missed breakfast potatoes since I made the switch to a Primal diet, and these were amazingly good. The celery root shredded right up in the food processor, and they cooked into a wonderful soft texture that I've never really managed to pull off with actual potatoes. Cook them a bit longer than the recipe calls for–I gave them an extra five minutes per side and still didn't get them as crispy as I could have. Otherwise, they're dead easy–shredded celery root, salt, and pepper, fried in whatever oil you prefer–I used ghee. My mother-in-law couldn't tell that they weren't potatoes.
The sausage gravy and biscuits I made from this Robb Wolf recipe. About the only thing I did differently was omit the fennel in the gravy, used tapioca flour instead of arrowroot powder, and beat the egg whites into soft peaks for the biscuits (I shouldn't have bothered–it took so much stirring to incorporate all the coconut flour that it deflated them completely). I'll keep searching for a better biscuit recipe. The gravy was really good, though–couldn't tell that it was dairy-free at all!
I've made crab cakes on here before–they're one of those things that I make a little differently every time. The standard is crabmeat + egg + almond flour + green onions + Old Bay + salt and pepper. Sometimes I use a little bit of diced celery or celery seed. I fried them in olive oil for about 5 minutes per side, and then put them in the oven at 200 degrees on a cookie sheet to keep warm along with the hash browns while I made the rest of the meal. To make the Benedict, I made hollandaise sauce using my stick blender. Put 3 room temperature egg yolks in the beaker, and top with the rest of the ingredients. Put the barely-melted butter in last, let it settle for about 15 seconds, then whiz it with the stick blender until it's smooth. You can do this in a regular blender or food processor too, but I prefer the stick blender version. You'll want this to be the last thing you do for the meal, because if it cools off too much it's really not very good, and it can't be reheated. To plate it up, top a crab cake with a poached or fried egg, then pour the hollandaise over it.