Swiss Chard and Fiddlehead Quiche
April 30th, 2011 at 19:50
I actually made this for Easter morning, but my mother was in town until yesterday, so I haven't had time to post it until now. I'm hoping that my regular readers (all five of them) can still find fiddlehead ferns–they're perilously close to out of season already–if not, keep this one in mind for next year, or just go without–the chard would be lovely on its own.
Speaking of the chard, the majority of this dish will involve getting it ready for the quiche. Take one bunch of Swiss chard–I prefer the rainbow variety, because hey, rainbows!–and tear the leaves off the stems, then tear the leaves into bite-size pieces. You'll end up with about six cups of leaves, give or take. Rinse it in a salad spinner, but don't care too much about getting them dry–they will cook better damp.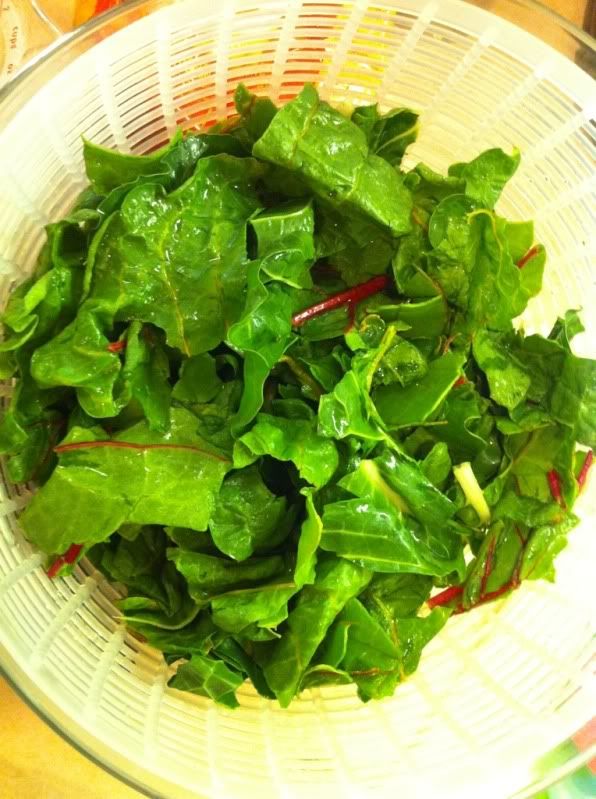 When they're clean, saute them over medium heat for about 4-5 minutes, until they're nice and wilted. Squeeze them to remove any excess liquid and put them in a bowl.
Meanwhile, you'll want to take 6-12 fiddlehead ferns (I always think more is better) and trim the tips off of them.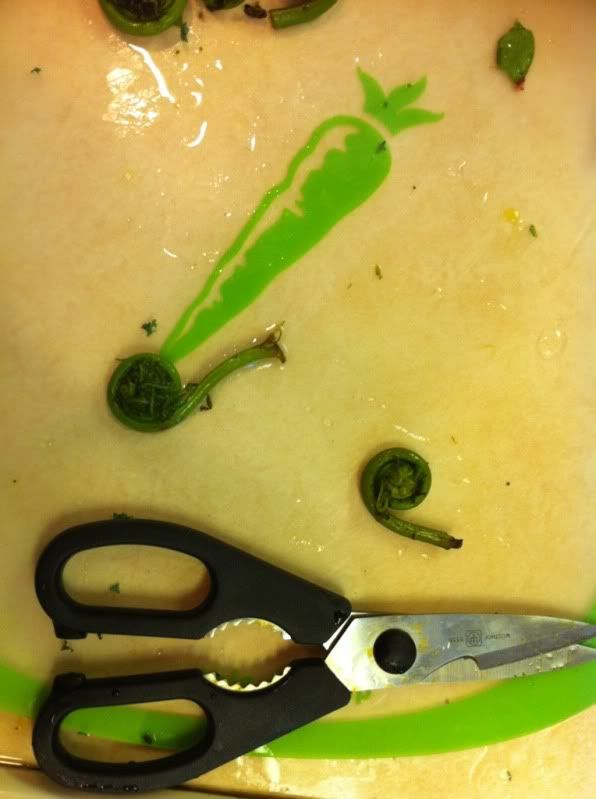 I also like to get out as many of the fuzzy inner leaves as possible. I do this by putting them into a bowl with cold water and rinsing them, then draining the water, then repeating until the water runs clear. Once you've done that, put the fiddleheads in boiling water for about 6-8 minutes. Drain them and put them aside.
In a large mixing bowl, beat two eggs, a cup of milk or cream, 3/4 cup of grated Parmesan cheese, the grated zest of one lemon, a pinch of Kosher salt, and black or white pepper to taste. Add your chard and stir until it's well-incorporated. Pour it into a greased 8″ square or 9″ round cake pan. Top it with the fiddleheads.
Pop it in a preheated 350 degree oven for about 25 minutes. Let it stand for at least 10 minutes before slicing it–it'll be custardy and just barely set.