Chicken Cauliflower Coconut Cashew (or Almond) Curry
April 30th, 2011 at 20:02
Every now and then I manage to surprise myself. Last Saturday night, I did it by completely winging it and making a dish so good that I wish I'd paid more attention when I was making it.
I've been trying to eat more coconut lately, so when I had a package of chicken breasts I needed to use, I decided to go the curry route. Problem was, I couldn't find a recipe I particularly wanted to follow, so I just came up with my own. All measurements of spices and such are approximate, because I wasn't really paying much attention–I was just throwing stuff together.
Take two pounds of boneless, skinless chicken breast and cut it into bite size pieces. Brown it in batches over medium-high heat in 3 tablespoons of coconut oil, putting the browned chicken pieces in a bowl when they're finished. After all the chicken is browned, open a bag of frozen cauliflower and brown those as well. Put it in the bowl with the chicken.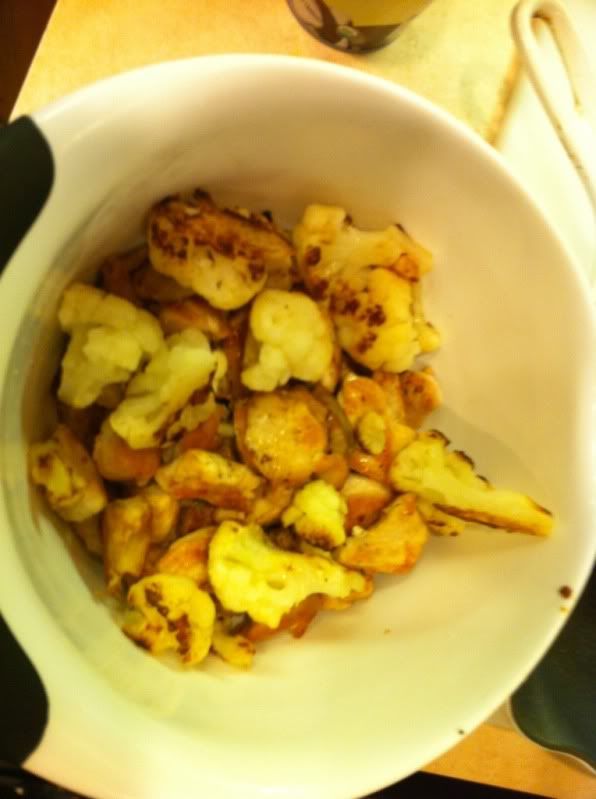 As the chicken and cauliflower are browning, prepare your spices. I used one minced shallot, three cloves of minced garlic, about two teaspoons of grated fresh ginger, a tablespoon of red curry paste, two teaspoons of red chili and garlic paste, and a teaspoon or so of curry powder. Once the chicken and cauliflower are done, add another tablespoon of coconut oil if the pan is dry, and then put in all the spices. Toast them all for about two minutes. The pastes will likely stick to the bottom of the pan a bit, and that's fine.
Pour in a can of coconut milk and a quarter-cup of cashew or almond butter. Scrape up the stuff that's stuck on the bottom of the pan and let it dissolve into the sauce. Add the cauliflower and chicken back to the pan and simmer over medium-low heat until it's all heated through–about five minutes.
I didn't take a picture until it was almost done, because it was so good that I forgot.