License to Grill
April 10th, 2011 at 19:10
Here's three quick and easy recipes for grilling season, only one I'll have pictures for.
First thing is two marinades, one for chicken breasts and one for flank steak. Both of these things are very grill-friendly, and they taste great cold, which is perfect for a lunch salad. If you're going to fire up the grill for steaks or chops, I suggest throwing these on the coals as well, and you'll have lunch meat for the week.
Chicken one is ridiculously easy. Put your chicken breasts (about a pound to a pound and a half's worth) in a gallon-sized Ziploc bag. Pour in a half-cup each of lemon juice and soy sauce. Add 3-4 spoonfuls of jarred minced garlic (you just want the flavor, not the texture, so the jarred stuff is great in marinades) and about the same of grated ginger. Grind in about 15 grinds worth of black pepper, then close the bag, squeezing out as much air as you can. The best way to do this is to close the bag about halfway, and then fold the top half of the back back over the bottom half, so the liquid stays in the bottom but the air goes out the opening. Then close it the rest of the way, shake it up so all the garlic and ginger and pepper mixes into the marinade, and put it in the fridge. 30 minutes to 8 hours later, take it out and grill it.
Flank steak is a bit more complicated, but still delicious. You'll want another gallon Ziploc bag, and about a 1.5 lb flank steak. Put the flank steak in the bag. Since the marinade has a lot of ingredients, I like to do this one in a separate small mixing bowl and pour it in after it's all made. Start with a half-cup of olive oil, a third-cup of soy sauce, and a quarter cup of red wine vinegar. Squeeze in the juice of a small lemon, or half of a large one. Add two or three spoonfuls of that jarred garlic, 1-2 tablespoons of Worcestershire sauce, a heaping tablespoon of Dijon mustard, and another 15 or so grinds of black pepper. Whisk it until the oil is well-incorporated, then pour it into the baggie and seal it up. This one takes about 4-8 hours in the fridge to marinate–you'll want to turn it over halfway through.
The third recipe is for keftas. For two to three pounds of ground beef or lamb, you'll want to start with two large handfuls of flat parsley leaves–no stems. You can also add the tops of 2 green onions, or some mint if you're using lamb. You can also use a little bit of minced garlic, some sumac, or whatever other Middle-Eastern spices you want. I prefer to keep these relatively simple. Mine just have the parsley, green onions, and about a teaspoon of dried sumac. For a good idea of the total amount of herbs to use, this is a full-sized salad spinner in this picture.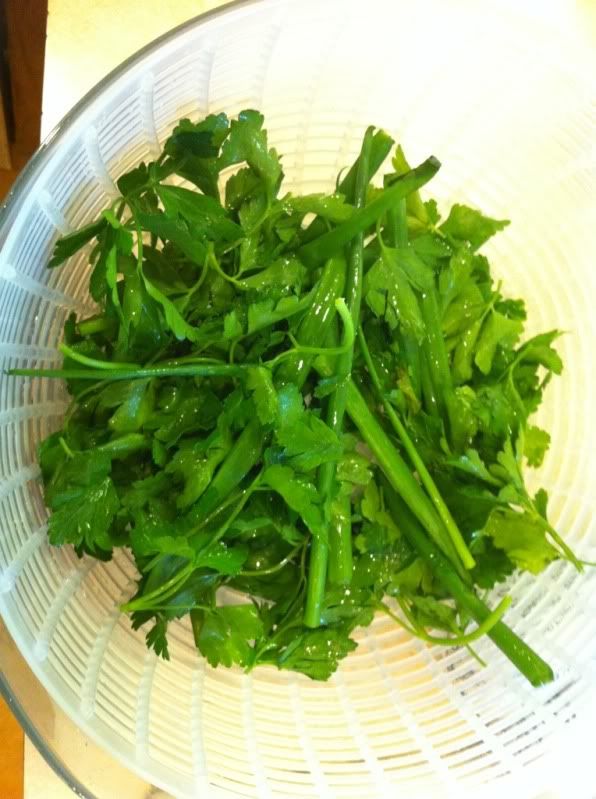 Finely mince your herbs (I use the food processor) and then mix them in with your meat. Add at least a teaspoon of salt and some black pepper as well.
To make the keftas, you'll want to get a palmful of the meat mixture and make a long, narrow tube. Think the approximate size and length of a toilet paper roll.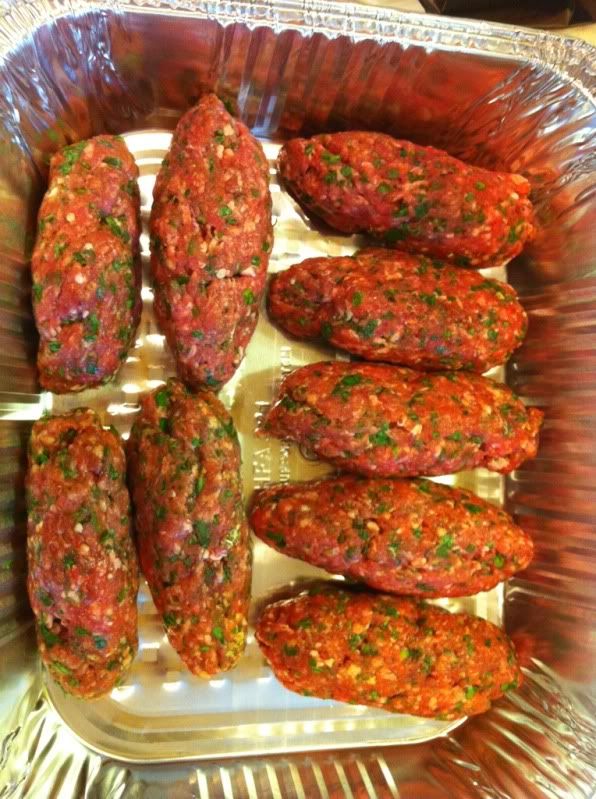 Once they're all rolled, they're ready to grill. You can put them on skewers, but it's not necessary if you're careful turning them.
While they're grilling, make your tahini sauce. Pour half a cup of tahini into a small mixing bowl. Add about 3 cloves of fresh crushed garlic and two pinches of kosher salt. Whisk in two tablespoons of olive oil and a quarter-cup of lemon juice. If it's too thick, add warm water a tablespoon at a time until you reach the desired consistency.
Serve your keftas with a green salad, kalamata olives, some seedless cucumber, feta cheese if you're into dairy, and the tahini sauce.