Saturday, April 30th, 2011
Today was the first farmer's market of the year. I look forward to this day to a ridiculous degree, and very rarely does it live up to my expectations, as there's just not too much in season right now. But this year? AWESOME. I found a bunch of stuff I rarely ever see, including the world's most perfect ramps. Ramps, for those of you who don't know, are a wild spring onion, also referred to as wild leeks, even though they look nothing like the leeks you're familiar with. If you can only find the bulbs, use them in the same way you'd use garlic. If you're lucky enough to find them with the leaves still attached, they look like this.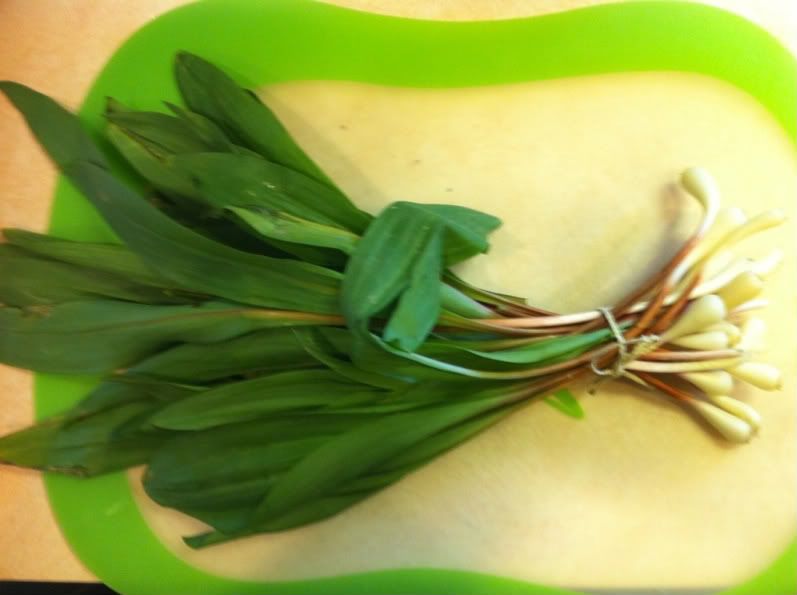 Whole wild ramps make awesome pesto. Take 10-15 of them. Remove the bulbs and chop them coarsely. Chop the stems and leaves coarsely as well. Make a pile of bulbs, a pile of stems, and a pile of leaves.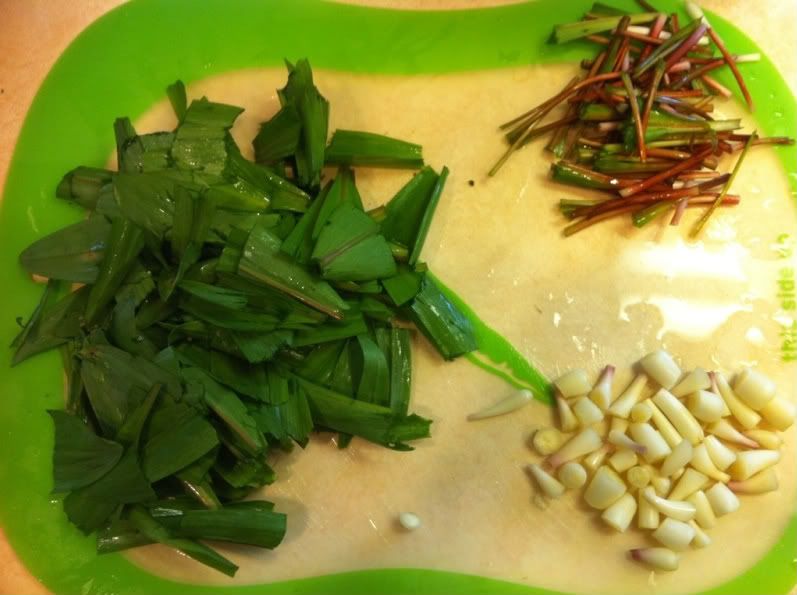 Over medium heat, saute the bulbs only in olive oil for about two minutes, until they start to brown a bit. Add the stems and saute it for another minute, then add the leaves and saute until wilted, about another minute more.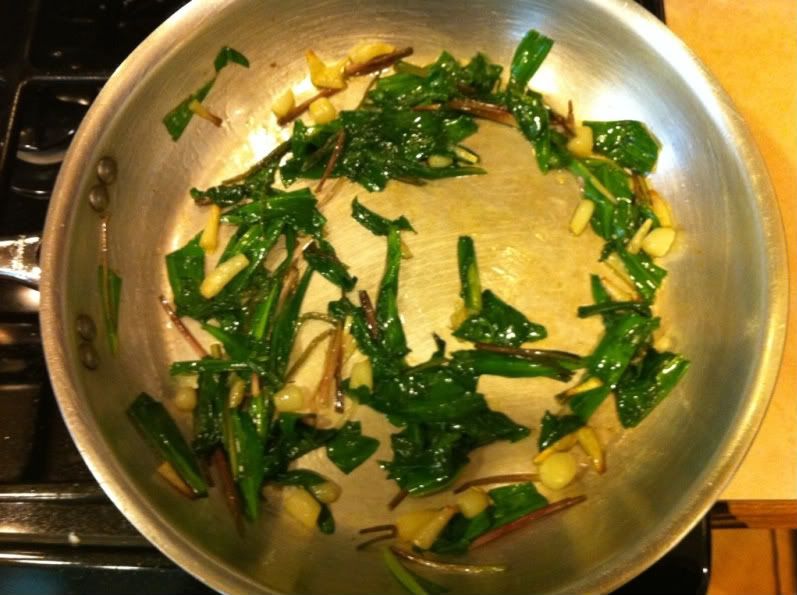 Put them in the food processor with about a half cup of toasted walnuts or pine nuts. Pulse a few times. Add a half-cup of Parmesan cheese and a pinch of Kosher salt. Pulse again a few times. Slowly add a half-cup of olive oil, pulsing occasionally. You don't want it to be a puree–you want some chunkiness to it.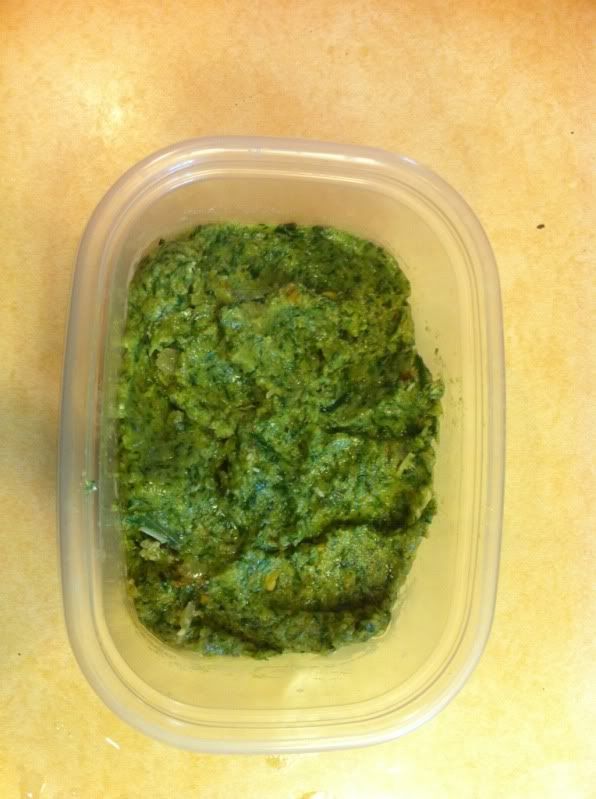 Sunchokes, or Jerusalem artichokes (which are neither artichokes nor from Jerusalem), are a nice low-starch tuber. They're ugly as hell, though, and they supposedly make you quite flatulent, although I ate mine about 3 hours ago and have yet to get that particular symptom. You can eat them raw or cooked–they're quite versatile. To roast them, start with two pounds. Peel half of them, and leave the skins on the other half–you'll want to scrub those with a sponge under warm water to get all the dirt off. Cut them in bite-size chunks.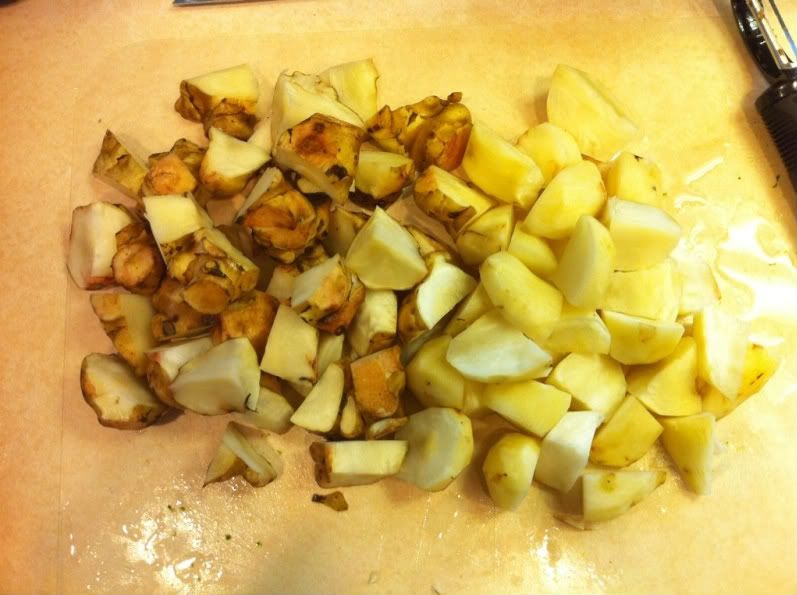 Toss them with olive oil, salt and pepper and roast at 400 degrees for 30-40 minutes. I did mine for 30 but they could have gone 10 more minutes and been a bit creamier. But like I mentioned, you can eat them raw, so it's not like they're gross if they come out a little undercooked.
For the planked salmon, heat your grill to about 450 degrees. Soak an alder or cedar plank in water for at least an hour. I let mine soak for most of the afternoon. When your grill is ready, put the plank on it for 10 minutes, lid down. Flip the plank and put your salted and peppered salmon filets on it, skin side down. A standard-size plank should fit 4 salmon filets–if you're making more than that, you'll need more planks. Close the lid again, and let the salmon cook on the plank for 12 minutes. Remove promptly. The skin should stick to the plank, leaving a nice soft salmon filet to put on your plate.
Serve it with ramp pesto and the sunchokes. Eat it outside, take a bite before you take a picture, and marvel at the new leaves, the birds and sunshine, and all the bounties of another wonderful spring.
Speaking of the bounties of another spring, tomorrow I'll show you the morels.