Deep Dish Meatza!
March 16th, 2011 at 19:50
One of my former Standard American Diet favorite weeknight meals was a deep-dish pizza, made with canned pizza crust dough pressed into a Pyrex baking dish, filled with spiced ground beef, tomato sauce, and topped with mozzarella cheese. It's one of those ridiculously simple meals that tastes fantastic, and is probably the number one meal that Husband misses from our previous diet. There are various Paleo pizza crusts out there, made from coconut flour or almond flour or even cauliflower, but none of them sounded like they'd work for recreating the meal I used to make. And then I found a recipe for Meatza.
The concept of Meatza is simple, and even with my reformatted Primal brain, sort of horrifying. Instead of a carb-laden crust, the crust is…made of…meat. Ground beef, to be exact. Two pounds. Add two eggs and mix it throroughly. Then add a half-cup of grated parmesan, about two teaspoons of Italian seasoning, a teaspoon of garlic powder, a teaspoon of fennel seeds, and three teaspoons of salt. When it's all blended, press it into the bottom and up the sides of a 11×7″ baking dish, making sure to keep the thickness even all around. Pop it in a preheated 450 degree oven for 15 minutes, then take it out and top it with sugar-free pizza sauce (Whole Foods makes some in their prepared food section that's really good, otherwise just check the labels) and whatever toppings you want. Depending on what toppings you choose, you may need to pre-cook them–I made it with mushrooms, onions, and Italian sausage, because clearly what the Meatza needs is more meat!–so I cooked them all beforehand. I used about two cups of whole milk mozzarella on top as well. When you get the toppings on, stick the Meatza under the broiler for 3-5 minutes–keep an eye on it to make sure the cheese doesn't burn.
Behold, the Meatza!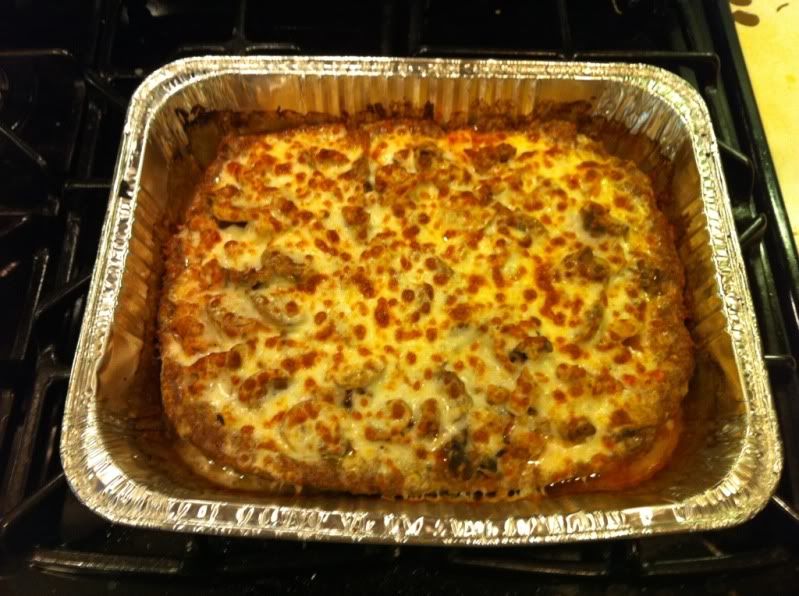 Husband said "I have a feeling you'll be making this a lot." Toddler? After dinner, she said "I like pizza…thank you, mama!" The best part? We have leftovers for March Madness tomorrow!