Cube Steaks Stroganoff
March 16th, 2011 at 10:54
I wasn't going to make a post about this one, as it was sort of a quick and dirty recipe, but damned if it didn't turn out pretty good, so I decided to start taking pictures about halfway through. This is a dairy-heavy recipe. If you're non-dairy, replace the liquid with a mixture of red wine and beef stock and let it reduce–it'll be a completely different flavor, but it'll still work.
First thing you'll want to do is pound some cube steaks even flatter than they already are, using the spiky side of a meat mallet. I used two because that's what I had, but with the amount of sauce I made, four would have probably been better (although you may want to double the amount of mushrooms, depending on how much you like them). Meanwhile, heat 2 tablespoons of butter and two tablespoons of olive oil over medium-high heat in a skillet. Liberally salt and pepper your steaks, then put them in to fry. Fry them four minutes on one side, then turn and fry them for three minutes on the other. Set them aside on a plate.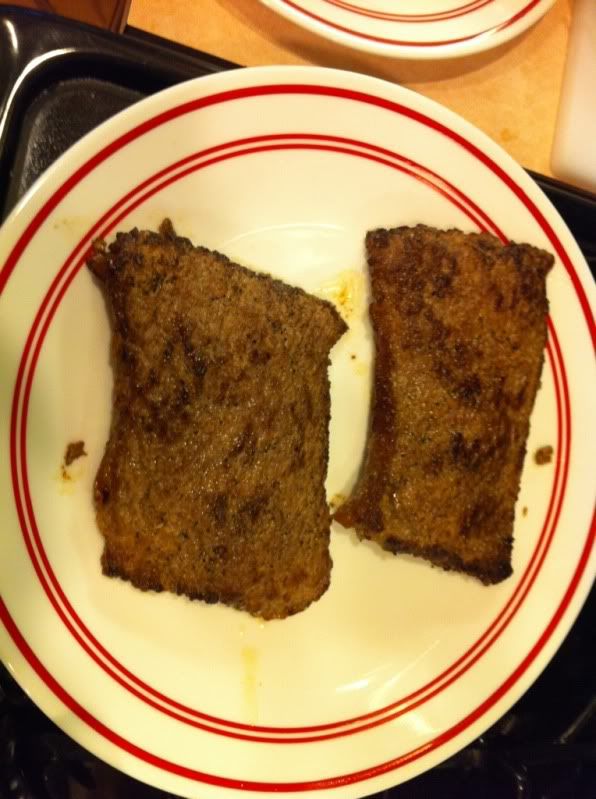 While the meat is frying, mince a shallot and two cloves of garlic. Once you've removed the meat from the pan, melt two more tablespoons of butter in the pan, making sure to scrape up as much of the browned bits from the bottom of the pan as you can. Add the shallot and 8 ounces of sliced mushrooms to the pan and let the mushrooms cook down. Then add the garlic and cook for another minute or so. This is the point where I decided to start taking pictures–this looks delicious and tastes even better. Honestly, you could probably stop here and it would be awesome.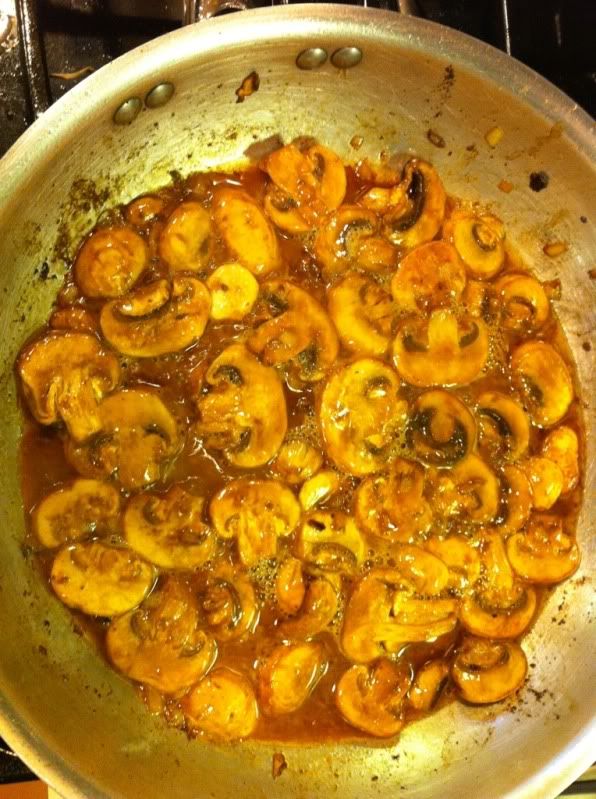 But if you really want Stroganoff, who am I to deny you? Add 1/2 cup of heavy cream and 1/2 cup of sour cream to the pan. I used whole milk instead of heavy cream because it's what we had, and it turned out okay, but grassfed heavy cream would make the sauce thicker.


I served this one over mashed cauliflower. I shouldn't have to post this recipe because it's a Primal/low carb staple, but just in case you're reading this as a newbie, you'll need to cook a large bag of frozen cauliflower (or a couple small heads of fresh, if you like to make extra work for yourself) until it's tender, then put it in the food processor with butter, milk or cream or sour cream, and any desired flavorings, until you get it to the consistency of mashed potatoes. I did this one with herb butter and sour cream, no milk. I've been known to do them with garlic, horseradish, or parmesan cheese before, depending on what I'm serving them with.