Chicken Francese and Creamed Spinach
March 8th, 2011 at 21:46
I'm lucky, in that I can handle dairy. This is one of those meals in which dairy is damn-near a requirement. Almost everything I do that involves butter can be replaced with coconut oil, but I wouldn't recommend it with this one. If you can't deal with butter or cheese, you may want to skip over this post. If you can, this recipe is pretty awesome.
I was inspired by a quick perusal of Mark's Daily Apple's forums, where a woman was asking for a Primal Chicken Francese recipe. They were suggesting using almond flour for the breading, which I've done before. I had those chicken breasts from yesterday, and it was like a light bulb went off in my head. I googled around for traditional recipes, and settled on modifying one from Tyler Florence on the Food Network. His was the basis for what I ended up doing.

So. Chicken breasts. I used 3 because that was what I had. An equal mixture of grated parmesan cheese and almond flour. I started off with three heaping tablespoons of each, but ended up using more like 4.5 and probably could have used 5. One lemon. Three eggs, although I could have used two and still had some left over. A half-cup of wine, a cup of chicken stock. About two tablespoons of butter (plus another two to use later), a quarter-cup of olive oil. A can of artichoke hearts, although you can certainly skip that–it's not traditional at all, I just thought it would be good.
This is a recipe in which a good setup is essential. Before you start, you'll want to beat the eggs and put them in a bowl. Next to the bowl, put down a plate and spread the almond flour and parmesan mixture onto it. Pound your chicken breasts to a 1/4-inch thickness. Cut your lemon in half. Juice one half, and thinly slice the other half. Open and drain your can of artichoke hearts. Finally, heat two tablespoons of the butter and the olive oil in a skillet to medium-high.
When the butter and oil is hot, you'll want to dip each chicken breast in the egg, then dredge it in the flour/cheese mixture, then put it in the skillet. Repeat this step with the remaining chicken breasts, making sure not to crowd the pan. You may need to do this in batches. Cook them for 2-3 minutes a side, until you can see the edges start to cook through and get golden brown underneath. Flip carefully. Marvel at how completely awesome it looks.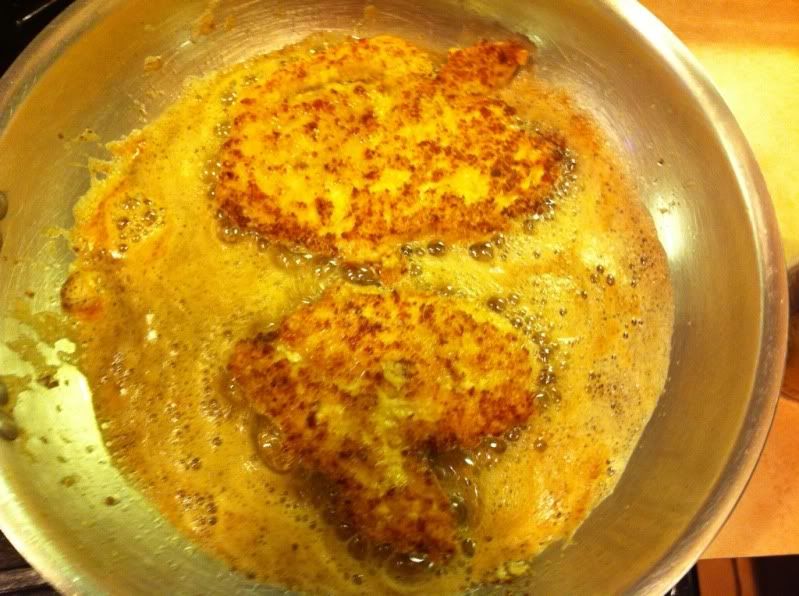 Cook for another 2-3 minutes, then remove from pan to a separate plate. Repeat with a new batch, if necessary. When all the chicken is done cooking and removed from the pan, add the sliced lemons (and artichoke hearts, if you're using them) and cook them in the butter and oil for 2 minutes.

Remove those from the pan and put them in a bowl. Add the wine to the pan, scraping the pan to dissolve all the browned bits that are sticking to the bottom. Add the stock and lemon juice, and a pinch of salt if you feel like it (I did). Turn up the heat and let the liquid reduce by at least half. When it's reduced, whisk in two tablespoons of cold butter. Add your chicken to the pan, ugliest side down, and top it with the lemon and artichoke hearts. Let it simmer for three minutes, until the chicken and artichokes are warmed through.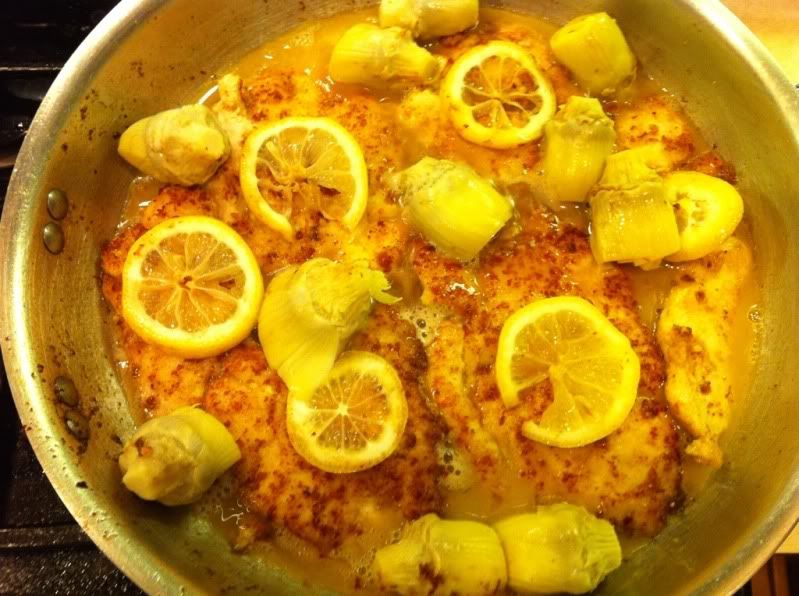 I served this one with creamed spinach. My creamed spinach is simple–one large package of frozen spinach, heated over the stovetop with half a block of cream cheese. When the spinach is thawed and the cream cheese is melted, add dollops of sour cream until you get it to the desired consistency. You can add pepper and grated nutmeg to taste, but it doesn't really need much salt at all.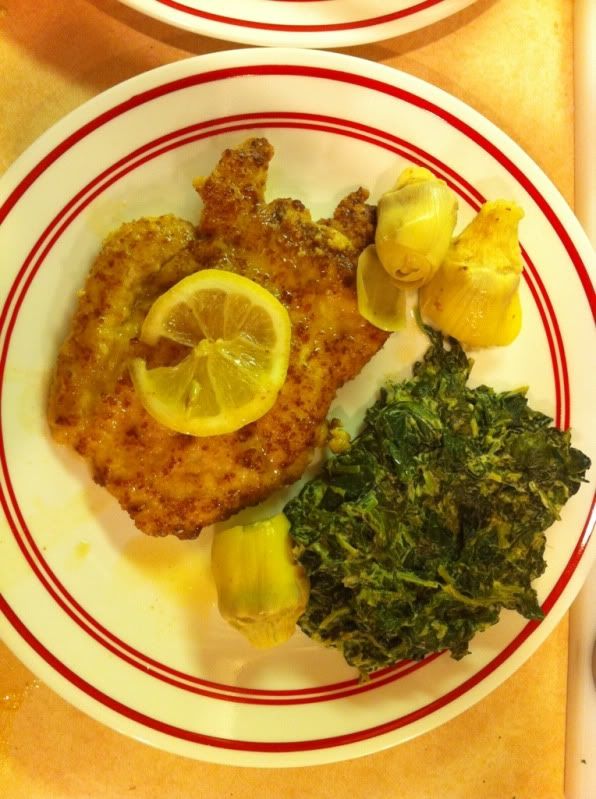 This meal turned out really well. Toddler inhaled her chicken and even tried a couple of bites of spinach. She wasn't a fan of artichoke hearts, though, which surprised me seeing as she loves olives and capers. Oh, well…more for me!
Tags: chicken, recipe, vegetables