Caveman Crab Cakes
March 7th, 2011 at 21:46
On weeknights, I like to do things that don't take much time.  I'd rather spend time with my daughter than stick her in the playroom while I cook for an hour.  Recipes that are low on time and ingredients are great for Monday evenings.  Tonight I tried to thaw out chicken breasts, but gave up after they were still rock-solid after running the package under cold water for 20 minutes.  I'll make those tomorrow or Wednesday.  Tonight, I had to go with something I didn't have to thaw out, so I turned to the can of crabmeat I had in the fridge.
Canned crabmeat is awesome.  It's easy to find wild-caught crabmeat in a can for a fraction of the price you'd spend on the in-shell variety, plus it's reasonably priced as far as seafood goes and keeps for ages.  The can I had in the fridge didn't expire until November of this year, and it's been in our refrigerator for months.  I mostly get it at Trader Joe's, but it's easy to find at any grocery store.
So I gathered my ingredients.  For this one, you'll want a 1-pound can of crabmeat, drained thorougly.  Two egg yolks.  Two tablespoons of minced celery, and one tablespoon of minced shallot.  Two pinches of dried lemon zest, or one teaspoon of the fresh kind.  Two teaspoons of dried dill, or two tablespoons of the fresh.  A half-teaspoon of hot sauce, and Old Bay to taste (about a half teaspoon was what I used).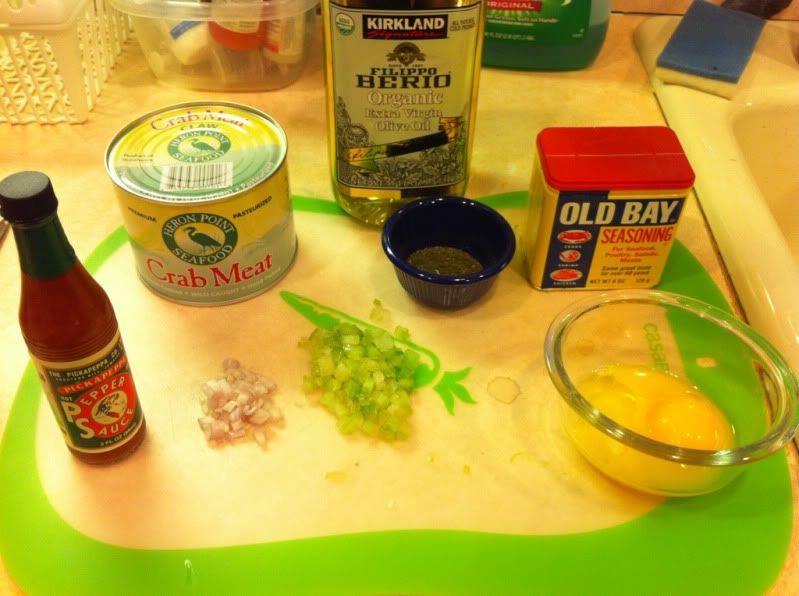 Mix all that together.  That part's pretty boring, so I didn't take a picture of it.  After you do that, preheat your oven to 375 degrees, then heat a skillet over medium heat, and add 1/3 cup of olive oil to it.  Let that heat up while you form the crab cakes.  Use about two heaping tablespoons per cake.  Form them on a cookie sheet.  They'll be about two inches in diameter.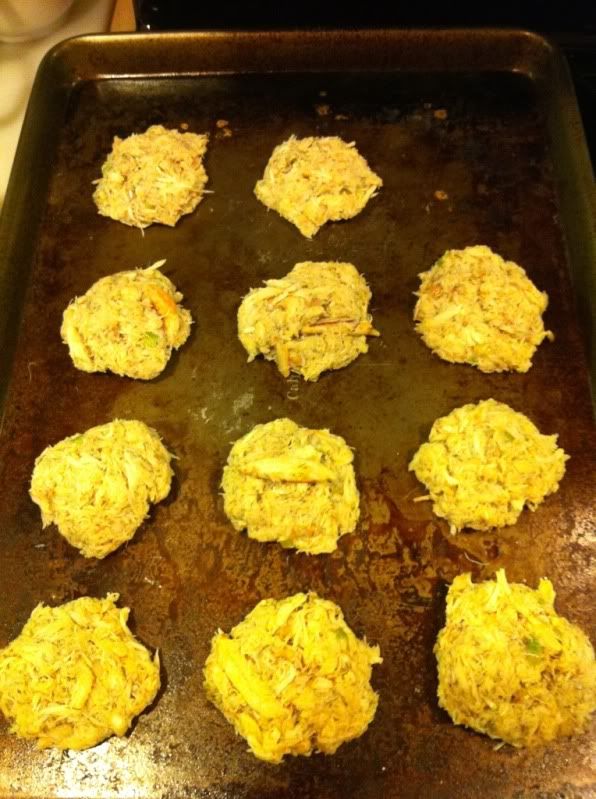 At this point, the oil should be hot enough.  Carefully put your crabcakes into the oil.  You'll probably want to do this in two batches, so you don't crowd the pan.  Flip them after three minutes.  Be really careful and use the thinnest spatula you have; like most Primal/Paleo crabcake recipes, these are really fragile.
Let them fry for three minutes more, then put them back on the cookie sheet.  Repeat with the next batch.  After you've fried them all, bake them at 375 degrees for 6 minutes.
While they're baking, make an aioli.  Aioli, in this case, is a fancy word for "tartar sauce," and tonight I made mine with Hain Safflower Mayonnaise (available at Whole Foods), some minced garlic from a jar (otherwise known as jarlic), and drained capers.  You can make yours however you like, but the base is always mayo.  Add jarlic and more Old Bay with some hot sauce if you want a Cajun kick to your aioli, for example.  There's no real recipe; you just sort of wing it depending on your mood.
I ended up serving these with a small green side salad with vinaigrette, and the caper and garlic aioli for dipping.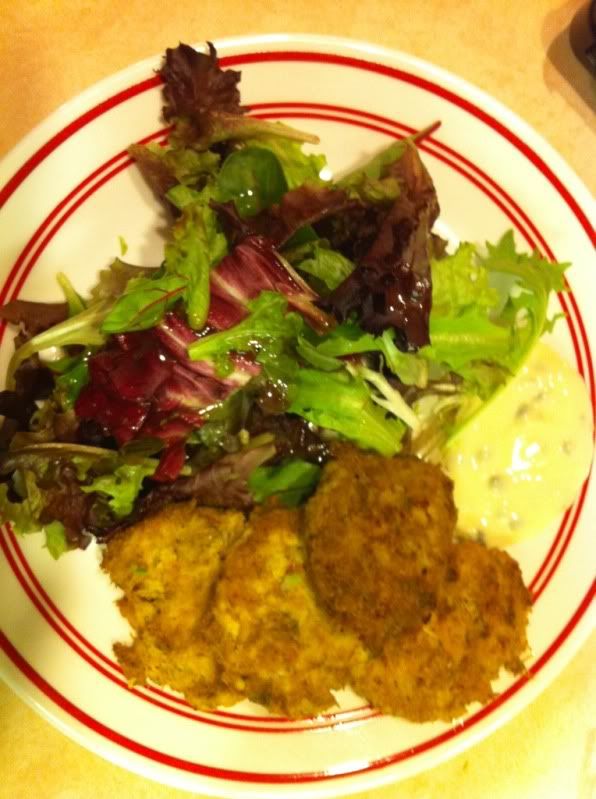 Tags: condiments, recipe, seafood