Brazilian Meatloaf and Braised Endive
March 6th, 2011 at 21:51
I'm a quarter Brazilian.  My maternal grandfather came here from Brazil as an adult.  He was a radiologist, and moved to Huntington, West Virginia, at a time when they couldn't actually get many American doctors because nobody wanted to live in Huntington, West Virginia.  His family would visit him occasionally, and as a child I would love it when my great-aunt Zita and great-uncle Elias would come to visit, because Zita was one hell of a cook.  One of the things she made that everyone loved was Brazilian Meatloaf.  That's what she called it, anyway.  I'm pretty sure there's not a damn thing Brazilian about it other than the chef.
Anyway, I never had a recipe, but it was pretty well-tuned to the Standard American Diet.  Hell, she topped it with crushed-up Cornflakes.  But it was good, and I decided a while ago that I would try to make a Primal version of it, because other than the breadcrumbs and the Cornflakes, it was a pretty perfect Primal meal.  I managed to do a pretty good job of it, if I do say so myself.
The first thing you need is the Green Stuff.
The Green Stuff is my great-aunt Zita's signature condiment.  It's awesome as a meat rub, especially on steaks or nice thick pork chops, but it's also good as an all-purpose seasoning.  You need a food processor to make it, and the recipe makes a ton (a little goes a long way) but it also lasts about forever.  I've had this jar for almost two years now (it's the third of three jars I made) and it's still going strong.
To make it, you'll need:
3 large onions
1 head of garlic
1 bunch of parsley
1 bunch of chives
Put all that into a food processor and blend it until it's relatively well-pureed.  Pour it into a bowl, and then add Kosher salt until it's more or less the consistency of wet sand–it'll be about 2-3 cups of salt total.  Put it in jars and store it in the fridge.
Okay, back to the meatloaf.  You'll need two pounds of a meat blend. While the best flavor comes from an equal mixture of beef, pork, and veal (and that's what I used in this one), I've done it with a pound of beef and a pound of pork and it's been fine.  Put that in a bowl and mix it well with an egg and a teaspoon or so of the green stuff.
Notice that the meat and egg mixture is kind of slimy and clumpy.  You need a binder.  In the Standard American Diet, that binder is bread crumbs.  But see what's in the background of the Green Stuff picture?  Almond flour!  That stuff can get expensive, so if you don't want to use it, I'd suggest skipping the egg entirely and just using the meat blend.  But I think the texture is better if you use a bit of filler, and just like the Green Stuff, a little bit of almond flour goes a long way.
See?  You don't need much at all.  Blend it together with your hands, until you can make a ball with it and it holds its own shape.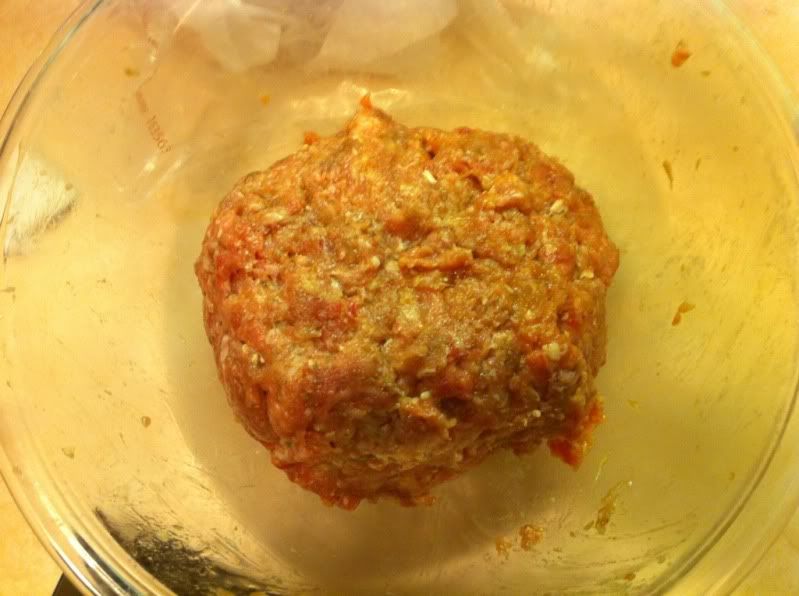 Take half of that ball and line the bottom of a loaf pan with it.  You'll want to press it up the sides a bit to make a small tunnel.  A meat culvert, if you will.  A meat ditch.  A meat valley.  This sounds dirty.  I'll just show you the picture.
The meat crevasse does not show up well in that picture.  I use an iPhone 4 as my camera, and my kitchen is annoyingly peach, so I apologize for the picture quality.  Anyhoo, this is where the fun begins.  First, you need some sliced ham.  Try to get good quality ham, cured with minimal sugar.  I asked for the least sweet ham that they had, and it turned out well.  Take about six ham slices and line your meat gorge with it.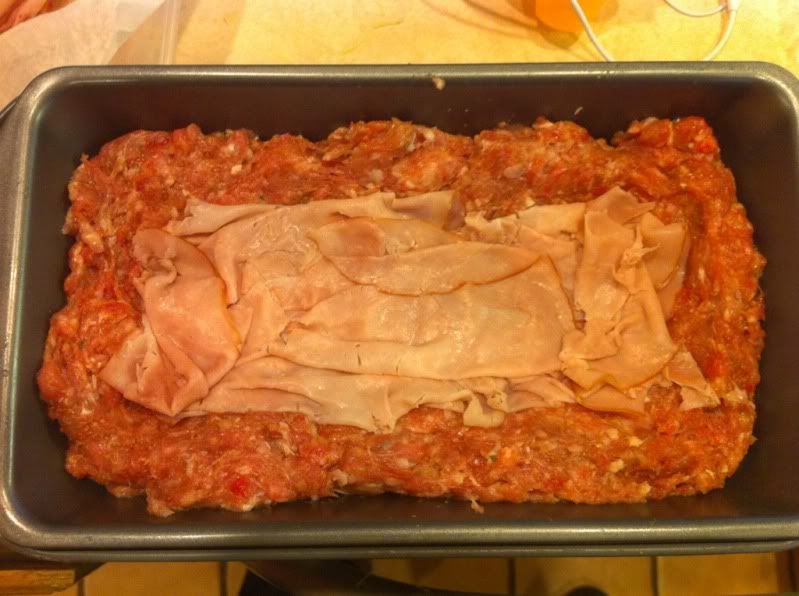 Next, slice up some cheese.  Zita's original used cheap block mozzarella.  I try to be good about the cheese I use, so I got some raw Jack cheese from Whole Foods and used it.  I wasn't precise, but this is about 3/4 cup of cheese.  Put it on top of the ham.  You can skip this step if you don't do dairy, but man, it's one good step.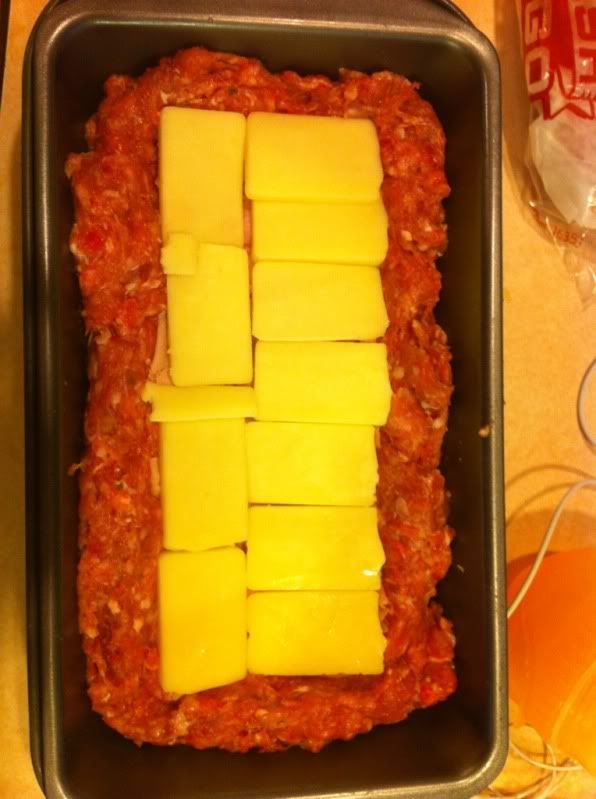 Now here's where things get CRAZY.  Add three peeled (duh) hard-boiled eggs.
Take the other half of your meat ball, and use it to seal all that goodness into the middle of the meatloaf.  You'll want to take your finger and run it around the outside of the loaf to make sure to seal it up well, otherwise all that cheese will leak out while it's cooking.  I guarantee you no matter how well you seal it up, some will still ooze out, but you still have to try to seal it up, otherwise it's total chaos.  At the end, it'll look something like this.
Remember those cornflakes I mentioned?  Well, we can't use those, but what we CAN use is slivered almonds!  I forgot to take a picture of that, so you'll just have to wait and see the finished product.  Put your almond-topped meat mountain into an oven that you've conveniently preheated to 350 degrees.  It'll be done in an hour.
Meanwhile, you need a side dish.  I got some Belgian Endives at Trader Joe's, so I decided to make braised endive.  To feed two hungry adults and one vegetable-reluctant toddler, you'll need six heads of endive. Trim the bottoms and split them in half.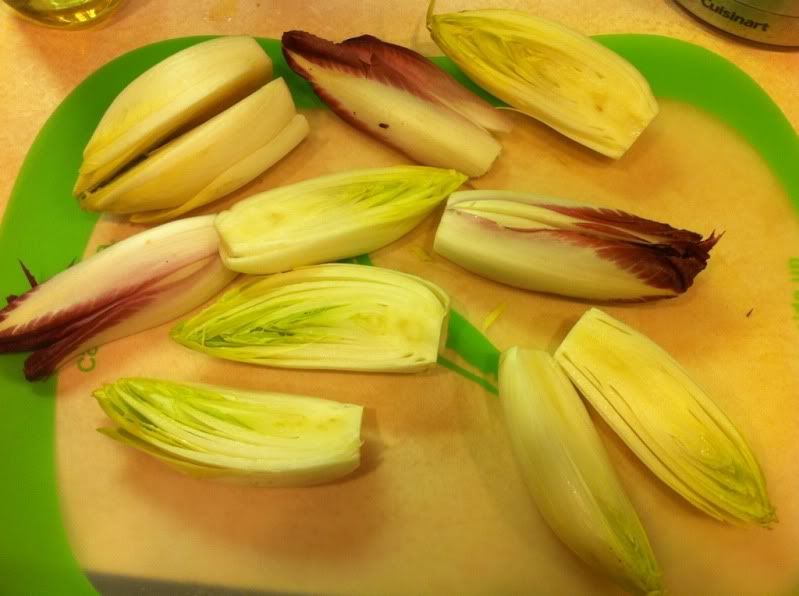 In a large skillet with a tight-fitting lid over medium-low heat, melt enough butter to cover the bottom with a thin layer.  Sorry I can't be more specific than that, but I rarely measure my cooking fats.  Instead, I'll just take pictures.  Obviously you can use coconut oil if you're not into dairy.
Add your endive to the pan, cut side down.  Sprinkle it with salt and about a tablespoon of lemon juice.  Pour one-third of a cup of water or chicken stock down the side of the pan.
At this point, turn the heat down to low, put on the lid, and wait 25 minutes.  What you see when you return and remove the lid will be something like this.
Your endive should be wilted and soft and in a small pool of water.  Increase the heat to medium-high and watch as the liquid begins to evaporate.  After it evaporates, let the endive brown a bit and then flip them.  It'll be about 3-4 minutes after all the liquid is gone.
Eventually you'll notice everything start to brown, including your pan.  That's when it's pretty much done.
If you've timed it right, this should be ready right about when the meatloaf is done.  Take your meatloaf out of the oven and remove it from the pan to a cutting board.
Doesn't that look awesome?  Plate it up with the endive and serve.  This should be enough for two adults and one toddler, with leftovers for one of the adults to have for lunch the next morning. Husband tells me that next time, I should make two.
Tags: condiments, meat, recipe, vegetables